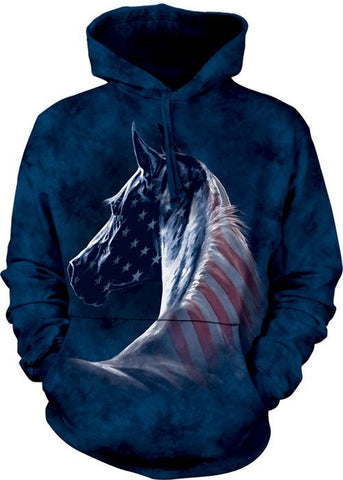 American Horse Hoodie
NOTE: ONLY Available Here from Tees Are Me!
*** IMPORTANT  PICK YOUR SIZE! ==>> Check Your Size Here Check Hoodie Size Here
- VERY LIMITED SUPPLY! *** We Only Print these once a year! Reserve Yours Today Before They Sell Out!
NOTE: A donation will be made to Horse Rescue with each order.
*** THESE are "One of a Kind" HIGH QUALITY Shirts with AMAZING Designs You Will LOVE! These are NOT cheapo shirts. *** Get Your Limited Edition Shirt Today Before they Sell Out!
===>>> THESE ARE OVERSIZED LOOSE FITTING! Check the size chart below!
Click "Buy it Now" & Pick your size! Long Sleeve & Ladies Fit!
Safe & Secure Payment!
This features an over-sized "loose" relaxed fit, with reinforced double-stitching on all seams. A hand-dyed and screen printed using water-based inks and dyes. After dyeing they are washed and dried, so they arrive to you comfortable, pre-shrunk & ready to wear.
NOTE: ==>> This is a PRE-ORDER! It will take about 4 weeks for you to receive your shirt from the date you order. These are hand dyed and each garment may look somewhat different. The coloring may vary.